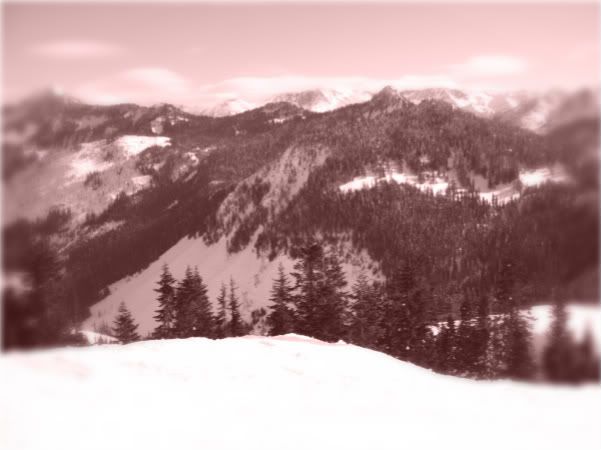 Looking out at the vast mountains - top of Tye Mill


Good morning! I'm waking up to a sunny Seattle day, after what feels like the best sleep I've ever had. This past weekend, I took my Avalanche Level I Certification class. I was pretty nervous at first, thinking that I wouldn't be able to keep up with the rest of the backcountry enthusiasts, but I really surprised myself. I took the course through Mountain Madness, and I would highly recommend it. They were so helpful and so experienced, I knew that I was getting all of the information I needed for safe backcountry travel. The course started out with a 3 1/2 hour lecture on Friday night at Feathered Friends in Seattle. I also got to rent some super cool snowshoes in order to ascend with the skiers who would be on skins. The next morning I got up at 5 am in order to make the foggy drive up to Stevens Pass. There were fifteen people in the class, ranging from early twenties, like myself, to probably late forties. Mixed with girls and guys, although I was the only girl who wasn't just a plain snowshoer. Everyone else was a skier, except for one other dude who was a snowboarder. They put us snowboarders with the snowshoers for the first day.
We hiked for a little while out to the right of the resort, underneath Cowboy Mountain towards an area called Grace Lakes. In that spot, we were able to learn how to use our avalanche transceivers. I have an Ortovox d3, and I was surprised at the efficiency of the technology. After practicing for a while, I was able to gain confidence in my rescue skills, realizing that the hardest part of the rescue is the shoveling. Then the guides split us into two groups where we had to create scenarios of possible burials. When we tried the other group's scenario, I realized how important it is to have good communication between your group members. There were two "people" buried, one with a beacon and one without. Finding the beacon was easy, but probing through the snow to find someone without a beacon is next to impossible. You have to look for clues, such as poles, gloves, etc to find the buried person and even then, the avalanche could have carried them anywhere. It was quite a challenge! Well that's enough of day 2, let's move onto the next day.

Yesterday was the day that we went out and took a tour. They put me and the other snowboarder with the skiers, to create a group of 10. Two guides, eight students. Stevens Pass hooked us up with lift tickets so that we could hop over to the backside. I strapped my snowshoes to my pack and off we went, bombing down the icy groomed runs to the winding cat track underneath the slope that faces the "backside" of Stevens Pass. We hiked about 1,000 feet, switchbacking through the trees. I'd never been on snowshoes before, so I struggled at first while I tried to figure out when they did and didn't have traction. I realized it was easiest just to go straight up as opposed to switchbacking behind the skiers with skins. I was the only girl out of the whole group, so it made it a bit intimidating and I was huffing and puffing. I didn't want to look like a wimp :) When we got to the top, we were staring into a large wall of steep slopes and cliffs with a lake at the bottom. It was clear that there had been a few avalanches during our last storm system.


Looking at the avalanche debris after hiking about 1,000 feet
Gnarly looking face in the Stevens Pass Backcountry


After we stopped to observe and analyze the slides, I was the designated leader for the group. I had to make the decision on how we were ascend to the saddle on the left side of the bowl area. Hiking straight up through the gully would be the fastest way, but also the most dangerous if there were to be an avalanche. There were two steep slopes on either side of the gully, one with no trees which indicates that it probably slides a lot. I opted to go around the lake since we have such low snow cover for this year and then up the slide path on the left side and cut into the trees. It worked out fine until we were really close to the top and I was forced to sideways step on my snowshoes across a really steep slope. I was freaking out just a little but it wasn't far so I got to the other side pretty quickly. Finally, we reached the saddle and had a gorgeous sunny view of Christmas Bowl!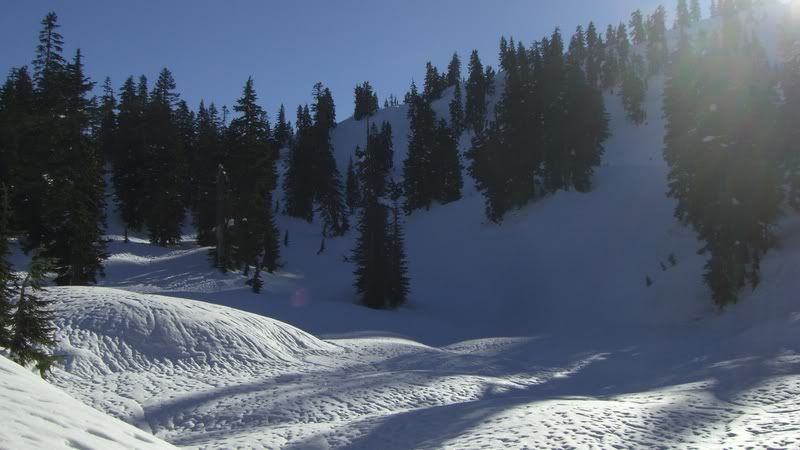 Taking the ridge on the left side would be the safest way to the peak - Christmas Bowl - Stevens Pass BC
The picture doesn't do it justice. It was so sunny, I couldn't get a good picture of the ridge because there was extreme overexposure. The picture suggests a route we could take to get to the top. Hike along the left side up the ridge. Unfortunately we were pressed for time, as we had to get back to the backside of Stevens to catch the lift before it closed at three, so we took a path up the left side. This turned out to be very steep and we had to make some pretty sketchy decisions. There was about a half-inch of crust over some very soft sugar snow, which did not offer much traction on my snowshoes. I almost wanted to cry at this point but I wasn't about to give up. We reached the top of the right side and were still staring up at the ridge of Christmas Bowl. We decided that we probably wouldn't want to ski down the crust, so we ended up dropping into the avalanche chute that was pictured earlier.

Staring up at crusty conditions in Christmas Bowl - Maybe next time...
It was super hard and crusty, with spots that were soft enough to turn on. The avalanche forecast was low, increasing to moderate on sun-facing slopes in the afternoon so we weren't really worried about getting slid on. To get to the bottom, we had to ski down a gully area that was pretty steep on either side. It was either that or going through the trees that we hiked up to on the first part of the tour. That would be fun if there was powder, but on this particular day, the surface was hard and crusty.

Watching the rest of my class ski down a couloir filled with avy debris. I was glad I made it!


With the cat track in sight, I breathed a sigh of relief, knowing that I was going to make it down safely and uninjured. It was such a learning experience for me, and I was so proud of myself for keeping up so well.

Maybe I'll ski that someday!


After taking this class, I feel like I can take my snowboarding experience to another level. I could look at a slope from a distance, find a safe way up, and ski down if I knew the conditions were right. Being in the backcountry is about good decision making, and this is what the course teaches you. Now I know why my friends in Jackson Hole said that taking a course is so important. Being in avalanche terrain can be a life or death situation and it's all about making it home at the end of the day.